Understanding the Purpose of Fundraising – By Joanna Oo
---
Is fundraising biblical?
Why do we, as Christians, shy away from asking for such patronage? Why is the exchanging of money between members of God's house seen as such a fearful and cautious thing? Perhaps it is because we require a clearer perception as to what Christian fundraising truly entails.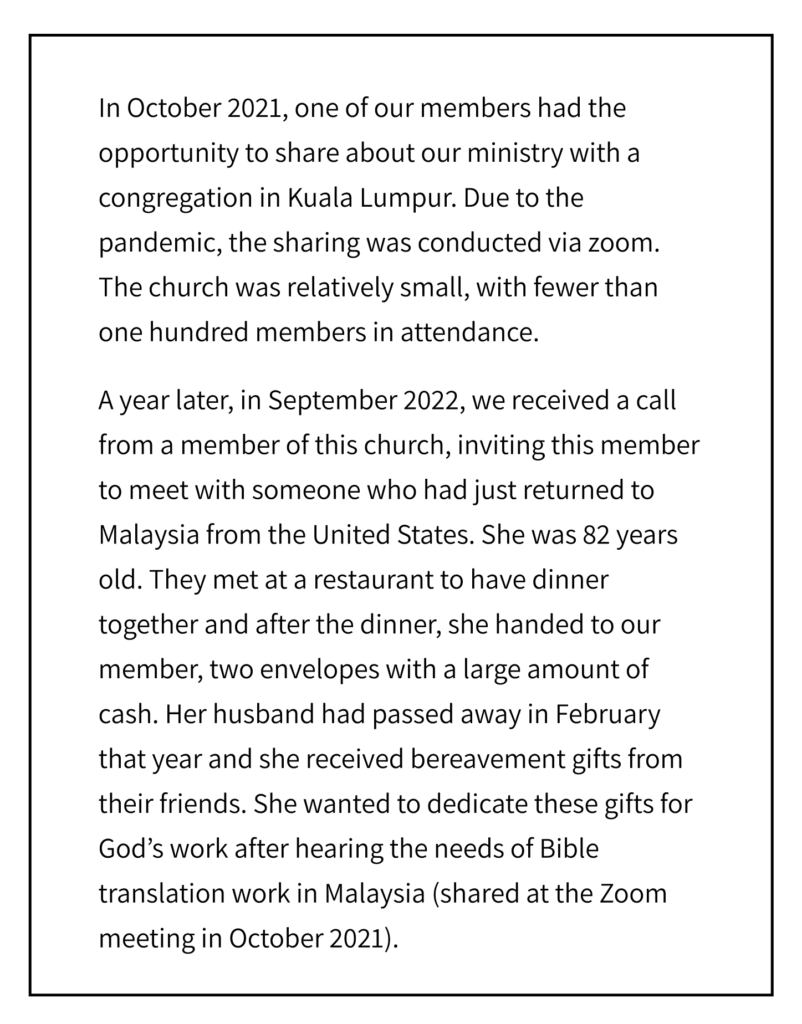 As an important aspect of ministry and outreach, fundraising allows churches and Christian organizations to fulfill their mission and serve their communities. Wycliffe Malaysia started managing Bible translation projects in 2019 and funds were from our Partner Organizations. In 2021, we felt the need to raise funds for our projects locally. As this is the first time we are doing fundraising, we learnt that fundraising is a "Ministry". If we can see that our giving to God is not an obligation but an opportunity, we can be the difference in our community's lives as representatives of the one, true God. It is a way to proclaim all that God has done for us as His church.
When fundraising is done as a ministry, it also requires a deep sense of trust in God. To rely on God's provision rather than our own efforts is no easy feat; one that can only be achieved by recognizing that God is the ultimate source of all resources, Our Jehovah Jireh; Our Provider.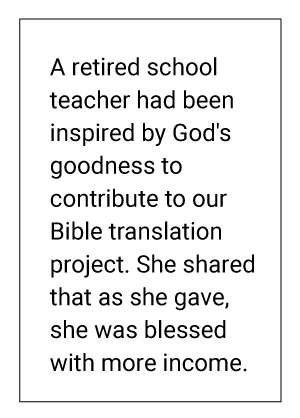 Another key element of fundraising as a ministry is the cultivation of relationships. Fundraisers who view their work as a ministry invest time and energy in building relationships with donors and supporters. They seek to understand their donors' passions and interests, and they strive to create meaningful connections between donors and the causes they support.
Fundraising as a ministry also involves a commitment to stewardship. Fundraisers who view their work as a ministry are mindful of the responsibility; they have to use resources wisely and effectively.
Ultimately, fundraising as a ministry is about serving God and others. It is a way to love our neighbors and make a difference in the world. When we view fundraising as a ministry, it becomes a source of joy and fulfillment rather than a burden or obligation. It is an opportunity; one we should be proud and happy to seize.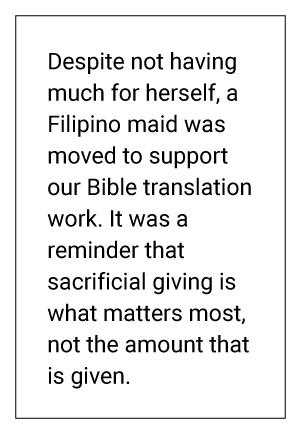 As we give, we are expressing our gratitude and thankfulness to God for His provision in our lives. When we give sacrificially, we are following Jesus' example of selflessness and generosity. We are also trusting in His provision for our needs, when we give with a joyful heart. As we invest in the Kingdom of God and contributing to the wildfire of hope, that is the Gospel, we are partnering with God in His mission to redeem the world and bring people into a relationship with Him. As we give, we are participating in God's work of transformation and renewal in the world. We are also expressing our love and devotion to Him. May our giving be a fragrant offering and a pleasing sacrifice to God, bringing Him honor and glory.
---
Related posts